Committed to helping members grow in business through structured, positive, and professional referral marketing, Matamata Chapter of BNI (Business Network International) are always looking at initiatives that further inspire commitment to customers or clients, but also ensure the longevity and success of local business.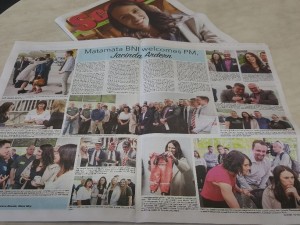 One of the initiatives of late has been periodically introducing guest speakers that offer unique and informative key messages, and have included for example, the manager of Matamata Public Relations, Sue Whiting who also administers Matamata Business Association and is passionate about the continued economic success of our business community, locally based economic development consultant, Karen Remetis, and Dame Susan Devoy, former New Zealand Race Relations Commissioner. This was taken a gigantic step further recently with an invitation to New Zealand Prime Minister, Jacinda Ardern.
Delighted to take up the opportunity, particularly as a past colleague of Shed Surf, Skate and Streetwear owner/operator and BNI Events Coordinator Sonya Church, Jacinda confirmed her attendance and locked in a day with the locals.
Beginning her BNI hosted local experience at Mata Digital, a company dedicated to providing transformative digital experiences locally, nationally and even internationally, Jacinda was extremely impressed at the ingenuity of local businessman, Tim Hampton who founded his first company, TimTec, at just 13 years of age. She also took the opportunity of an interactive introduction to Career Central, New Zealand's leading online platform for student career pathway management co-founded by Tim and Matamata College Careers Advisor, Susan Hancock.
Following this, Jacinda received a warm welcome by Matamata BNI President, Dave Harris before each of the chapter members introduced themselves and their respective businesses.
"BNI's core philosophy is Givers Gain" explained Dave. "And with 97% of businesses being classed as SME, we are typical New Zealand business people. If you give business to the members of your chapter, they, in turn, will give business of their own and their wider network of associates. Here in New Zealand there are 115 BNI chapters and 2,700 members who passed $80 million in closed business in 2017. For most of this year the Matamata Chapter has been number one in New Zealand. We are all small business people and thought you would be interested in both our diverse membership and how we support each other in business in rural towns across the country."
"In terms of what you're doing here as small business owners and operators, growing up in Morrinsville gave me an appreciation of the fact that our businesses in our smaller towns are everything" replied Jacinda. "You're not only business operators, but serve on boards and committees, donate to local organisations and school events, service clubs, and donate prizes to everything from speech competitions to sports events – you really are everything and I have a real appreciation for that; particularly having started my first job at the local fish and chip shop, followed by the local music shop! It was then, at just 14 or 15 years of age, I first saw what it took to run a business and the hard graft that went in, predominately by families. So now, when I sit in the Beehive and think about small business policy, or regional growth and how we can make it a little easier, those are the things I think about – I think about home. This morning has been a wonderful opportunity for me and I thank you all so much for hosting me."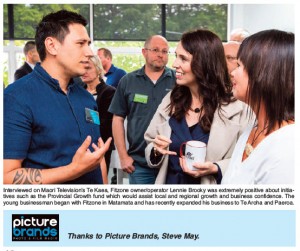 In reply, Dave thanked Jacinda for coming. "The door of Matamata is always open should you wish to visit" he said. "We would all like to wish you all the best for your role as Prime Minister and trust that you will have a wonderful, no pressure day while here in Matamata."
By Caron Stewart, Scene Online
-Thanks to Picture Brands, Steve May.
Read the whole issue of Scene online: https://sceneonline.co.nz/edition/issue-330/